What is The Body Gospel Boot Camp?
Body Gospel Boot Camp is a unique opportunity to start or end your day with exercise, prayer, scripture, fellowship, accountability and encouragement! Wherever you are in your health journey, our Boot Camp will provide you movements that will energize and challenge you while reminding you of the best motive for body stewardship: Availability to love and serve God and others to our capacity!
I'm really out of shape, will I be able to go at my own pace?
Andrea Irwin
2020-06-02T19:41:00+00:00
Yes you will. We offer modifications to the exercises that we are do so that our classes are accessible to everyone. From 18 to 90 years of age, 90lbs to 400lbs, and exercise pros to newbies, our certified instructors will make sure you can complete each exercise safely and within your individual limits.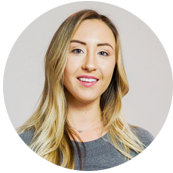 Hanna
Hanna Bailey has been an instructor with Fit for the King since we started offering classes several years ago. She is the proud mom of an adorable little boy and resides in the Des Moines area with her husband. When Hanna isn't teaching, you can find her photographing seniors, couples, and families. In her free time, Hanna enjoys spending time outdoors, playing sports, exercising, engaging in fellowship, and spending time with the Lord.
Fall Group Fitness Class
Dates: September 15 – October 15
Days and Times: Tuesday and Thursday Evenings from 5:30-6:15pm
Where: The Mission Church
12001 Ridgemont Dr. Urbandale
Session Length: 10 sessions for $75.00
Certified Instructor: Hannah Bailey
Special Note Regarding COVID-19: Space will be available for social distancing and additional cleaning has been implemented. If you are feeling ill and/or are experiencing symptoms related to COVID-19 please refrain from attending classes until you have recovered or have completed your quarantine. Masks are not required during workouts.
Complete the form below and receive our new workout program for free upon signing up.
"So what I really loved is that the instructor was able to give me modifications. I have a back injury so, it was nice that there were modifications that could be made. Don't be afraid if you need modifications, the instructor's great about helping you to do something that will not be dangerous for you." 
— Sarah
"I love coming to the Fit for the King workouts because I could go to the gym and get the world or I can come here and be filled with the Spirit. I love that in part of this workout, we get cardio, we get weight bearing exercises (lots of it), and you do that same thing at the gym, but with that spiritual addition, I just love it. And we're a family here."
— Nancy
"I think it's been a great help to me. It's given me an incentive to even eat better, and along with the physical fitness I'm getting through the boot camp, I think it's doing a world of good for my health."
— Larry