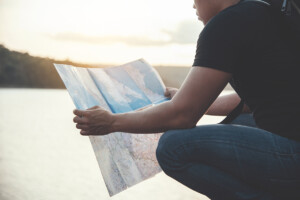 My church's response to adversity provides a blueprint for personal transformation
This week marks my transition from the relative stability of church-based pastoral work to the walk-by-faith world of entrepreneurial ministry. Like most ending a long season of church work, I've done my share of navel-gazing in an attempt to understand and quantify how God has used me for the past 15 years in my most recent Kingdom assignment.
Condensing my contributions at the church I served down to one grand summary statement: I helped move a once-vibrant church through a season of brokenness, ineffectiveness, and uncertainty to a new, healthy foundation with a hopeful future.
An early mega-church that grew exponentially during the late 70's and 80's, my church experienced two devastating splits within a few years' time, overwhelming the remnant congregation with the debt and discord left in their wake.
Thus began years of spiritual triage as those who remained were burdened with an edifice much larger than was needed, along with its associated upkeep expenses. Empty hallways, abandoned and musty rooms, stained and missing ceiling tiles and unkempt parking lots screamed "unhealthy!" to every visitor who set foot on our property.  I remember with clarity the congregational meeting at which leadership revealed the ten million dollar price tag our facility was going to exact on God's resources should we choose to remain where we were.
The congregation despaired at seeing their financial stewardship funneled into facility upkeep instead of ministry, a prayer list that consistently highlighted our own needs instead of the great needs of those outside our walls, and the shame and lack of confidence that came from being associated with a church undergoing a very public decline. For years I felt I needed to explain why I was continuing to labor at a church that had lost members to nearly every other congregation in the city. For those who have not been through this kind of church experience, I can testify that a long season of ministry in this state will threaten to metastasize into your view of God, His purposes for you, and even your identity.
By God's grace, He helped us see a preferable future. A future where our facility could serve the mission instead of us serving the facility, and where we would no longer let our destiny be defined by the failures, hurts, and missteps of the past. This involved repentance, hard decisions, a fresh vision, years of committed labor, and a surrendering of the past to embrace a more vital pursuit of God's purpose for our existence.
As we began to envision a new physical home for our congregation, our focus was on functionality and economy as well as presenting the best impression possible on those who would risk a visit to our services. While we had learned hard lessons about impressive structures in the past, we also understood we represented Jesus and were anxious to remove any barriers to Him we reasonably could. An accessible location, well-lighted and landscaped grounds, a visually pleasing interior and functional ease for visitors were the topics of many discussions as the plans developed. The conversations in this regard were never about us, the image we wished to project, or the creature comforts we desired; they were about others and how we could serve them best.
As I left my staff position last week, I marveled at the work God has done through His cooperative Body. Our replanted church has a new name, a new vision, the capacity to engage its community, a hopeful future, and, if I can say it, a healthy mojo that can serve it well as they minister with confidence.
So what am I going to do now? Actually, I feel called to the same kind of broad ministry I've been laboring at in this most recent season: help the church experience personal revival and transformation that can move it from self-obsession to a revitalized passion for God and others.
I feel called to help the church experience personal revival and transformation that can move it from self-obsession to a revitalized passion for God and others.
The challenges I've described from my home church are being faced by the Church at large in North America, only with a far more personal application: a disproportionally high number of Christ-followers are unable to engage the ministry of the Church due to compromised physical health. For too many in the church, the present and future maintenance and upkeep costs for our physical bodies have become an oversized burden that impacts our finances, our sense of confidence and self-worth, and, most significantly, our ability to effectively love those we are called to serve. Our prayer lists are weighed down with entreaties for God to heal self-inflicted wounds instead of for the lost and hurting outside our walls. In short, we're too often serving the building instead of the building serving and facilitating ministry.
As my church's experience shows, it doesn't have to be this way.
I invite you to join me in my transition. Together, let's repent from wrong thinking, motives and strategies that have us trying to do spiritual battle with only the world's ideas and resources. Let's surrender past hurts and failures in the area of body care that leave us paralyzed and fearful. Let's trade a future filled with missed opportunities and regret for a preferable future of expanded availability to the great call of every follower of Jesus.